Review By David Baldwin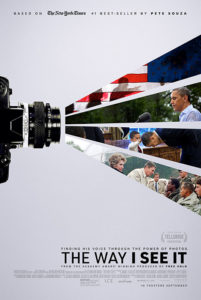 The Way I See It centres on Pete Souza, the former White House chief photographer for President Ronald Reagan and President Barack Obama, and the images he took during their presidencies. While the film does spend some time on Reagan, it mainly chronicles the time Souza spent with Obama – using some of his public speaking talks to bridge the gap between important events alongside his pointed commentary on President Donald Trump.
My go-to buzz word when describing documentaries is "fascinating", no matter the subject or context. The Way I See It certainly fits that fascinating mold, but the content within it seems substantially important enough that calling it fascinating is just not enough. It digs in deep past other surface level documentaries of its ilk and is captivating for the entirety of its running time. Watching Souza in action is what I imagine it would be like watching a painter creating Renaissance master works. He knows just how to compose the perfect shot and just when to take it. And his access to such intimate and candid moments of Obama, his family and his staff is simply mind-blowing. I had seen some of Souza's photos in passing before, but seeing them being celebrated here as documented history is a moving experience all in itself.
The other element that makes The Way I See It so captivating is Souza himself. He is animated and charismatic, telling stories and describing moments with the utmost conviction and occasional reservation. A particular story about Obama officiating Souza's wedding in the White House's Rose Garden is particularly touching and poignant. Souza is the genuine article, telling it like it is and not backing down from offering criticisms – or his swift opinions on Trump and his presidency. They start in a subtle way (with the film describing his Instagram page that pairs Souza's photos of Obama with captions that practically eviscerate Trump) before becoming full-blown condemnations by the end of the film.
While I think the film could have done with a bit more reflection on Reagan (the material that is here is more stirring than I ever expected), my more specific nitpick is that the film can never decide what it wants to be. In certain instances, it is a celebration of Obama's presidency. In others, it is a celebration of Souza's magnificent body of work. And in many others, especially in the film's final minutes, it is a scathing depiction of all the great things Obama did better than Trump. The film cannot ever seem to settle on being one thing, and spends a frequent portion of time jumping chaotically between all three and often in completely different timelines. Director Dawn Porter knows the story she wants to tell – and how vitally important it is in the lead up to this year's Presidential Election – but the film being so jumpy makes certain portions feel convoluted. And while Obama looms large throughout the film, I feel like it could have used a bit more emphasis on Souza himself. He's an extraordinary figure and the film is very much his story. So why not spend more time on him?
I very much enjoyed The Way I See It and the engaging story it tells. Some parts of the film could have used some fine-tuning to make it a bit less chaotic and the overall subject emphasis could have been better decided on. But seeing the pictures Souza shot and hearing his stories of Obama's presidency are more than enough reason to look past the nitpicks and just be absorbed into a period of time that so many of us wish we could go back to.
The Way I See It screens in the Bell Digital Cinema at TIFF'20 starting Friday September 11 @ 6pm. Canadian viewers can buy tickets here.
It will be released in Toronto and US theatres starting Friday September 18.